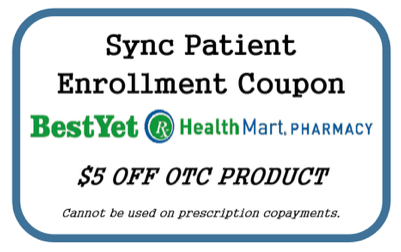 Do you have three (3) or more medications that you fill every month?
Are you tired of making multiple trips to the pharmacy each month to pick up your prescriptions?
If so, consider joining our free Medication Sync Program!
What is the Medication Sync Program?
The Medication Sync Program is a free program in which we coordinate all of your medications so that you can pick everything up on one convenient day each month. 
Control medications are excluded from this program.
What are the benefits of the Medication Sync Program:
This program allows you to make less trips to the pharmacy each month, saving not only gas money but your time as well.

We have all of your medications ready to pick up on your specific pickup date, so you go less days without missing medications.

If you are out of refills, we contact the doctor for you ahead of time so your new prescription will be ready and coordinated with your other medications.
How does it work?
We evaluate your medication profile and choose a specific date in which you will pick up your medications each month.

 

This is your pickup date or Sync Date.

You receive a monthly automated call around 5 days before your pickup date that notifies you that we are working on your medication order and gives you the opportunity to make changes or remove a drug from that month's order.

You pick up all of your medications on one day that is convenient for you!
Join our free Medication Sync Program today and receive $5 off of any over-the-counter product!